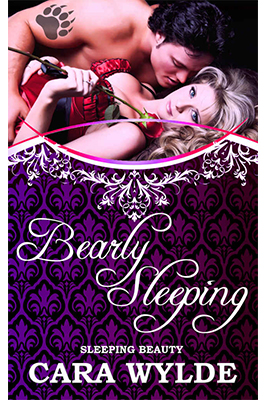 Bearly Sleeping (Fairy Tales with a Shift)
A retelling of Sleeping Beauty
Curvy Princess Rose doesn't believe in the curse that was cast on her when she was born. While seven good fairies offered her gifts of beauty, grace, and wit, an evil fairy cursed her to prick her finger on a spindle and sleep for 100 years. Her best friends don't believe in it either, and they convince Rose to prove everyone they were wrong by trying the only spinning wheel left in the kingdom.
Tavian has always been in love with the Princess. Unfortunately, she was promised to someone else. When he can't stop her from playing with fire and challenging the curse, he leaves the kingdom and vows to return for her when the time is right. But to be there to wake her after the 100 years are up means to find a way to become immortal, or at least prolong his life. The evil fairy is the one who comes with the solution: she turns him into a bear-shifter.
"Bearly Sleeping" is a sizzling hot standalone novella that might just set your Kindle on fire. Intended for readers 18+.