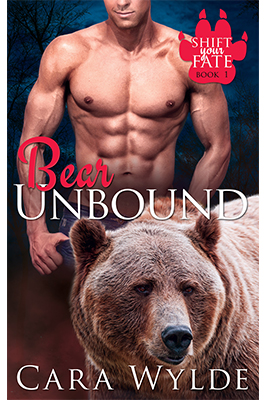 Bear Unbound (Shift Your Fate Book 1)
Beautiful, curvy Amber is ready to reclaim her freedom. She's had enough of her husband's lies and she's done with his family's weird rules. She's getting a divorce, and she's taking her 8-year-old daughter with her. Oh, and she's determined to stay away from men. For now at least. But her best friend, Rebecca, has other things in mind. She takes her to the one place where Amber can find what she's truly looking for: Shift Your Fate. Instead of advising her to leave her past behind, the empath Kassandra reminds her there was someone else before her ex-husband, someone who could have made her happy, if only she had given him a chance.
Tyler Atwood lost contact with Amber ten years ago, when she married Stephan Castell. He had a choice to make then: tell her the truth about her husband, or step aside and leave them be. He chose the latter. Amber wouldn't have believed him anyway. Bear-shifters? An Assassins' Guild hunting supernatural people? On second thought, it was better if she never knew. Now, Amber is back into his life. Being with her puts both of them in danger, but how could he resist? She's always been the only woman who could tame his bear.
Bear Unbound is the first book in the Shift Your Fate series of standalone novels. What you should expect: hot, steamy scenes, growly Alpha males, beautiful, curvy heroines, and well-deserved happily ever afters. Intended for readers 18+.