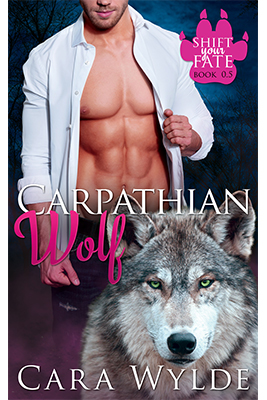 Carpathian Wolf (Shift Your Fate Book 0.5)
Rebecca Gilbert is a sexy, curvy, and confident woman who knows what she wants. She's a successful and respected chartered accountant in New York and seems to have her life figured out. The only problem is she can't find the right guy to share it with.
Sick and tired of the dating scene, stressed because of her demanding job, Rebecca needs a new perspective. That's why she takes her friend's advice and goes to see Kassandra, who is well-known for her abilities as an…empath. The old woman doesn't only feel what Rebecca feels, but also knows exactly how to help her. However, when she tells her to pack her bags and board a plane to Europe first thing in the morning, Becca thinks she's insane. On the other hand, she does need a vacation.
A new country, a strange language, a small medieval fortified city in the heart of the mountains… It's safe to say Rebecca is forced to step out of her comfort zone. The empath told her she'd find her destiny here. She doesn't know much about destiny, but she knows the tourist guide, Emil Severin, is one of the hottest men she's ever seen. Green eyes, dirty blond hair, a wicked smile, and an adorable, panty-melting accent–yes, he's exactly what she needs. Emil seems to want her too. In fact, he can't keep his hands off her. Then why is he holding back? There's something he doesn't want to tell her, something that prevents him from taking her hard and fast. Well, tough luck, because Becca is determined to find out what it is. If Emil is, indeed, her destiny, then she's not letting him go without a fight.
Carpathian Wolf is Book 0.5 in the Shift Your Fate series of standalone novels. What you should expect: hot, steamy scenes, growly Alpha males, beautiful, curvy heroines, and well-deserved happily ever afters. Intended for readers 18+.