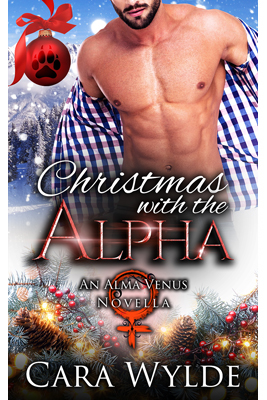 Christmas with the Alpha (An Alma Venus Novella)
Ten years of marriage and three wolf pups later, Avelyn and Max are ready for a vacation. Their dream is to get some peace and quiet, away from the Schloss and the entire Clan Blackmane. Just the two of them. Alone. Even a couple of hours would be more than enough.
When their sons, Nikolas, Lucas, and Jacob present them with their Christmas gift, the two overworked parents can't believe their eyes: it's an official permission slip to spend Christmas alone, somewhere romantic. They'd better take advantage of it before the kids change their mind!
Christmas with the Alpha is a short, sweet novella in the Alma Venus Shifter-Brides universe. The action takes place ten years after Sold to the Alpha. Intended for readers 18+.