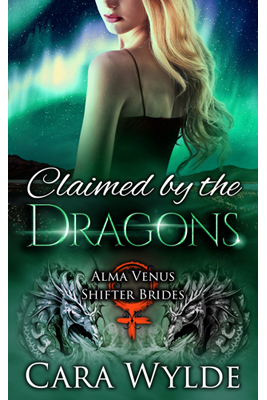 Claimed by the Dragons: A Dragon-Shifter Romance (Alma Venus Shifter-Brides Book 3)
A Dragon-Shifter Mťnage
Beautiful, innocent Delyse has been waiting for three years to be claimed by her dragon-shifter husband, Eric Drekinn. Ericís Beta, Viggo, bought her for his Alpha, but now they are both waiting for the next solar eclipse, when the ancient dragon will rise from his long hibernation. Unfortunately, Delyse finds it hard to wait patiently when the charming, handsome Viggo is just within armís reach. Before she knows it, she falls madly in love with him. Itís wrong, itís forbidden. She belongs to Eric, and she doesnít even know if Viggo feels the same.
When Eric Drekinn rises from his deep sleep, his young bride is there to offer herself to him. Heís afraid to love again, but Delyse is everything he could wish for. Then, he starts suspecting there might be something more than friendship between his bride and his Beta, and he isnít sure how to react. On one hand, Delyse belongs to him. On the other hand, Viggo is his best friend.
Ericís choice will surprise both Delyse and Viggo.
Claimed by the Dragons is a full, standalone novel with no cliffhangers. It contains explicit language and sizzling hot scenes that might set your Kindle on fire. Intended for readers 18+.