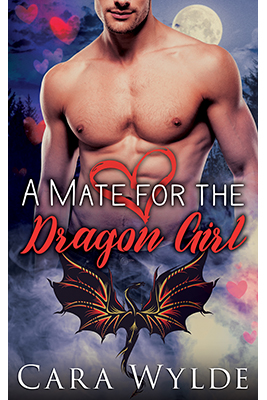 A Mate for the Dragon Girl
Sexy dragon-shifter Astrid belongs to Clan Drekinn, the most ancient and noble dragon family in the world. Her Alpha, Eric Drekinn, and her brother, Viggo, had found their mate ten years ago. Their bride, Delyse, had already given them two heirs, and Astrid couldnít be happier for them. However, seeing them so peaceful and fulfilled makes her yearn for a mate of her own. But itís not easy to find someone when, like all female shifters, she is unable to bear children. No matter. Astrid doesnít believe she will ever find a man who could handle her fire, anyway.
When she is forced to represent her clan for the first time in her life because her Alpha and her Beta are busy renovating their home after their sons destroyed the left wing in its entirety, Astrid meets a man who might just tick off all the conditions on her list. The only problem is he is a human.
James is the heir of Councilor Arthur Harington, and the one in charge of the only pharmaceutical company in the world that produces antidotes for the five types of shifter venom. Harington Pharmaceuticals needs more funds for its research, and the only way to get the money is to convince Clan Drekinn, their main sponsor, to continue supporting them. It seems easy enough, until James meets their new representative, the tall, beautiful blonde with golden eyes Ė Astrid. Itís hard to focus on his job when all he wants is to impress her. But, would a proud dragon girl even look his way?
A Mate for the Dragon Girl is a sizzling hot standalone novella with a happily-ever-after. Intended for readers 18+.
Approximate word count: 18,000 words.