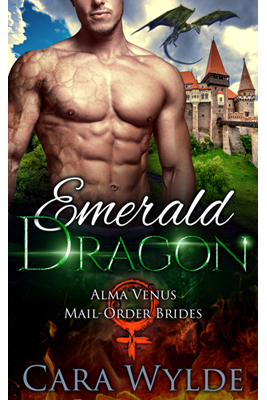 Emerald Dragon
(Alma Venus Mail-Order Brides Book 2)
Shy and curvy Jade Summers has almost lost hope she would ever get her happily-ever-after. After all, she was never lucky in love, so why would she be now? She came at the Alma Venus Agency for Mail-Order Brides because she thought shape-shifters made better husbands than human guys. Now, she isn't sure anymore…
Dragon-shifter Kaden Grimmr needs a bride. And fast. He's the Alpha of the Emerald Wing, and he believes it's time to divide his father's clan and take his dragons to a new place and a new future. The problem is that his father, Calder Grimmr, refuses to give him his blessing unless he gets himself a mail-order bride so he'd one day have heirs. Kaden has no choice. As much as he hates the idea of mail-order brides, he'll have to make a compromise and find one.
He wants a marriage of convenience. She wants true love.
When Kaden messages her and tells her exactly what he needs, Jade wants to refuse him. But he's so tall, hot and handsome that it's very hard to say "no" to him. Maybe, if she takes this one risk, true love will be waiting for her at the end of the road.
Emerald Dragon is a full, standalone novella, with a happily-ever-after, and NO cliffhangers. Intended for readers 18+