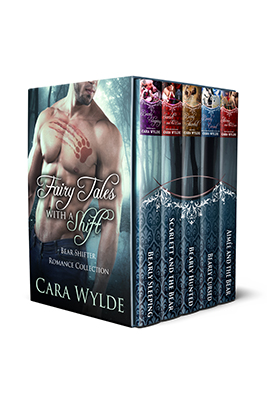 Fairy Tales with a Shift (The Complete Collection)
Once upon a time… Princesses didn't dream of Prince Charming, but of a strong, Alpha male who could save them, steal them, take them somewhere far away and love them in delicious, sinful ways their royal education would never deem acceptable. These are the Princesses who lived happily ever after with their fated bear-shifters.
In this anthology, you will find 5 bear-shifter novellas written by Paranormal Romance Author Cara Wylde. They are all standalone stories, with no cliffhangers. Enjoy!
Bearly Sleeping – A steamy retelling of Sleeping Beauty. Princess Rose doesn't believe in the curse and is about to make a huge mistake. It's up to Tavian, her fated mate, to make things right.
Scarlett and the Bear – A hot, fast-paced retelling of Little Red Riding Hood. Scarlett is about to be sacrificed to an evil werewolf. The last thing she expected was to be saved by a noble bear-shifter.
Bearly Hunted – A sweet retelling of Snow White. Nieve is kidnapped by the man who was supposed to kill her, but instead fell in love with her.
Bearly Cursed – A sexy retelling of East of the Sun and West of the Moon. Brenda accepts to become the bride of a polar bear to save her family from the harsh winter. What she doesn't know is that her bear is a Prince under a curse.
Aimée and the Bear – A heartwarming retelling of Beauty and the Beast. When Aimée wants to steal red roses from the garden of an abandoned mansion, she ends up thrown into the dungeon by the beast who lives there.
All these stories are intended for readers 18+.