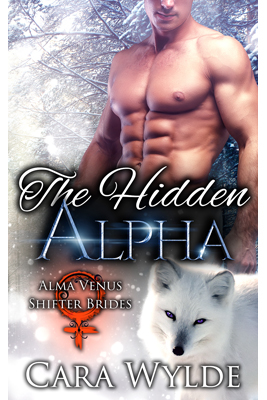 The Hidden Alpha (Alma Venus Shifter-Brides Book 2)
Sexy, sassy and smart, Amelia is one of the few shifter brides who have nothing against the peace treaty humans and shapeshifters signed over a century ago.
A lost, terrified orphan when the headmistress of Alma Venus Boarding School took her in and gave her a chance at a better future, Amelia gladly accepted to one day become the bride of a fox-shifter. The year she turned 18, she became eligible to be sold to the highest bidder, and there was nothing she wanted more.
Seth of Clan Sylfur is in search of a bride for his future Alpha. Roman Sylfur, the Alpha of the most powerful fox clan in the world, is dying, and his son, Blake, will soon take his place. The second he sees Amelia, Seth knows she is the perfect woman… for him, not for Blake.
Amelia is torn between her feelings for the hot, hunky Seth and her responsibility as a shifter bride. But how could she stay away from the Beta fox when her mysterious husband won't even bother to see her and welcome her to her new home? How could she possibly be faithful to a stranger? Her husband is hiding something from her, and that makes Amelia run to Seth. What they're doing is dangerous, but his strong arms are the only place where she feels safe.
This is the full, standalone story of Amelia, raised and educated to become a shifter-bride, and her hot fox-shifter, Seth. No cliffhangers!
This books contains explicit language and sizzling hot scenes that might set your Kindle on fire. Intended for readers 18+.