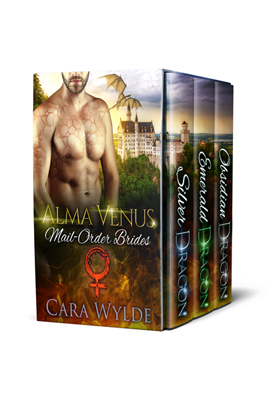 Alma Venus Mail-Order Brides: Collection (Three Paranormal Shifter Novels)
How the Alma Venus Mail-Order Bride Agency works:
Any human female can marry a shapeshifter, if she wants. When a young woman decides this is the best choice for her, she contacts Alma Venus and goes to live there for a couple of months. She is sorted into the right House and learns the most important things about the shifter faction she's going to marry into. Meanwhile, she starts corresponding with possible suitors.
Silver Dragon – Curvy Andrea Evans doesn't decide to become a mail-order bride because she is looking for true love. Her real intentions lean more toward her future husband's gold and money than to his heart. Sadly, dragon-shifter Calder Grimmr has no idea he's bringing a con artist into his home.
Emerald Dragon – Alpha dragon Kaiden Grimmr needs a bride, and soon. If he wants his father to allow him to take his dragon-shifters with him and rule over his part of Clan Grimmr, then he must prove his devotion to the clan and its legacy. Shy and curvy Jade Summers feels she's not her future husband's first priority, but she follows him anyway. She hopes one day her love for him will make him see her.
Obsidian Dragon – Dragon-shifter Lucian Sutherland awakens after one hundred and fifty years of hibernation only to find out his clan is extinct. His only chance at rebuilding his legacy is to take a mail-order bride. Curvy Natalie Sands has only ever wanted a safe and loving relationship, but she's not sure the dark and broken Lucian will be able to offer her that.
These three steamy novels are standalones, and only intended for readers 18+.