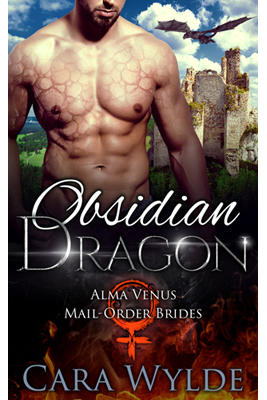 Obsidian Dragon
(Alma Venus Mail-Order Brides Book 3)
Natalie Sands is one curvaceous beauty who's not entirely aware of the effect she has on men. The fact that she's been at the Alma Venus Agency for mail-order brides for over a year without getting one proposal doesn't help, unfortunately. Her best friend keeps telling her that her fated mate will show up when the time is right. After all, that's how destiny works. But after so many disappointments, Natalie isn't sure she believes in destiny anymore.
After one hundred and fifty years of hibernation, dragon-shifter Lucian Sutherland returns to the world of the living only to discover that his whole clan was wiped out during the War of the Six Factions. With his home in ruins and no family to call his own, Lucian seeks the help of the only dragon he knows might still be around – Calder Grimmr. His friend confirms what he's already figured out by himself: Clan Sutherland is dead. As the Alpha, Lucian should have never deserted his dragons.
When Calder comes up with the only solution he knows, Lucian doesn't even want to hear about it. He doesn't see how taking a mail-order bride will help him start a new life. In fact, he isn't convinced he deserves a second chance.
Obsidian Dragon is a full, standalone novella, with a happily-ever-after, and NO cliffhangers. Intended for readers 18+