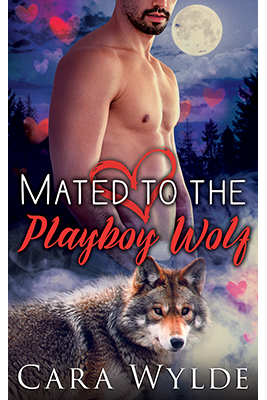 Mated to the Playboy Wolf
After too many emotionally abusive relationships, curvy, shy, heartbroken Tessa Forbes decides to become a mail-order bride in hopes that shape-shifters are not as awful as humans. She leaves her life behind and moves to the Alma Venus Mail-Order Bride Agency to study the shifters' culture and traditions. She's sorted into House Lupi, which means she's more fit for a werewolf, and as soon as she gets her own page in the House Lupi catalog, a hot, hunky, crazy, and totally impulsive wolf asks her to marry him. Tessa is shocked. Aren't things happening a little too fast?
Matt is the Beta of the Dark Wolves, pack which belongs to Clan Blackmane. When Valentine's Day catches him without a girlfriend, which is unheard of in his case, he panics and makes the craziest move: he gets a mail-order bride. But the mail-order bride system is very serious. Yes, he's horny now, and so in love with Tessa, the curvy beauty who is unlike any woman he's ever been with, but will he still want her in the morning? Being the reckless clutz that he is, Matt doesn't thing about the consequences: he asks her to marry him and takes her away from Alma Venus. He'll deal with reality later.
Mated to the Playboy Wolf is a sizzling hot standalone novella with a happily-ever-after. Intended for readers 18+.
Approximate word count: 18,500 words.