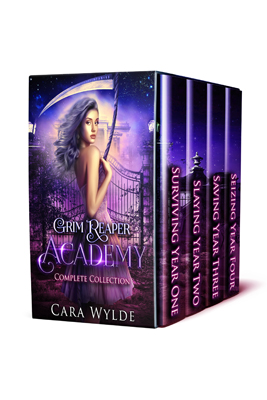 Grim Reaper Academy: Complete Collection
You thought there was only one Death? Aww, that's sweet...
There are 22 Grim Reapers in the world, and every two hundred years, Grim Reaper Academy invites a select few to apply. On my eighteenth birthday, I received my letter. I am Mila Lazarov, and I am the only human to attend the prestigious school. To graduate, I will have to survive first. But how am I supposed to compete with mages, angels, demons, fays, vampires, and shifters? No one wants me here, because I don't belong. The queens of the Academy want me dead, and the kings can't decide if they want to kiss me or kill me.
There's no way I can keep up with Holier-Than-Thou Sariel (cause he's an archangel, you see), Jerkface-No-1 Pazuzu AKA Paz (cause all demons are major morons), Mr. Bow-To-Me GC Apis (ugh, false gods are the worst), and Francis (no idea what his deal is, he doesn't talk much). They will eat me alive.
This is the complete collection that contains the four Grim Reaper Academy books, as well as three exclusive stories you can only find in this set.
Surviving Year One
Exclusive Story: Prom Night
Slaying Year Two
Saving Year Three
Exclusive Story: First Time a Harem
Seizing Year Four
Exclusive Second Epilogue: Yolanda