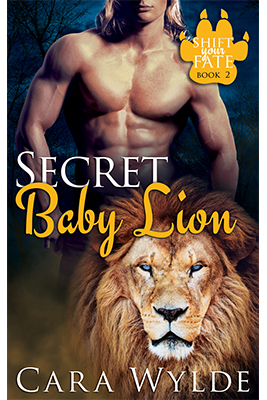 Secret Baby Lion (Shift Your Fate, Book 2)
Olivia Jensen has been running away from her past for too long. An incident sheís trying to forget made her leave New York two years ago. She had no intention of coming back, but when her sonís life seems to depend on her courage to return home, Liv will step on her pride, face her fears, and do everything to save him.
Confused as to why her baby is acting strange, she ends up seeing Kassandra, an empath. After all, when all doctors fail, a mother will try anything. She doesnít like what Kassandra advises her, though: to find the father and tell him that he has a son.
Tristan Ward doesnít know what to think when Olivia, the woman he has been dreaming of all this time, knocks on his door. They only spent one night together, and then she was gone. Why is she back? What does she want from him? On second thought, none of it matters as long as she stays. He has a secret of his own, but telling her the truth would probably mean scaring her away for good. First, he needs to show her that she is his mate, and then he will tell her he is a lion-shifter.
Unfortunately, Olivia and Tristan donít get much time to know each other and build up the courage to reveal their secrets. When a jealous witch tries to poison Liv, and the Assassinsí Guild kidnaps her son, they are forced to leave the past behind, forgive each other, and fight to bring their lion cub back home.
Secret Baby Lion is the second book in the Shift Your Fate series of standalone novels. What you should expect: hot, steamy scenes, growly Alpha males, beautiful, curvy heroines, and well-deserved happily ever afters. Intended for readers 18+.