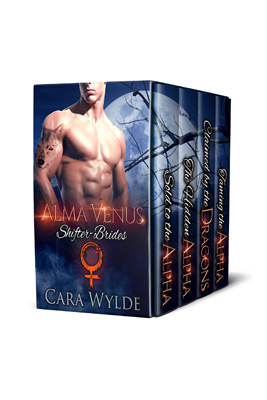 Alma Venus Shifter-Brides: The Complete Series (Four Paranormal Shifter Novels)
Dive into the world of the Alma Venus Shifter-Brides! Get four standalone novels at an incredible price, and enjoy the stories of four beautiful, amazing women who are trying to make their own destiny in a world where humans are an inferior race!
The peace treaty between humans and shape-shifters was signed over a century ago. One of the clauses says that humans must provide shifters with young brides to give them heirs and ensure the perpetuation of their species. Today, all over the world, special boarding schools take girls from orphanages and give them the most exquisite education, preparing them to become brides for the enemy. If a bride reaches the age of 25 and no shifter wants to buy her, then she is given two options: serve in a shifter brothel, or starve on the streets. Society would never accept a bride who failed to accomplish her duties.
Sold to the Alpha – Avelyn is determined to regain her freedom and never marry a shape-shifter. When Alpha wolf Max Blackmane buys her, she uses all the tricks she can come up with to escape. Before she knows it, she falls in love with him. But Max has dark things in his past, dark things he keeps hidden in the dungeons under his castle.
The Hidden Alpha – Amelia has always wanted to marry a wealthy shifter and live a simple, normal life. She is bought by Seth, the Beta of Clan Sylfur, for his fox-shifter Alpha, Blake Sylfur. But her husband ignores her, and Amelia falls in love with Seth. Her betrayal might ruin her forever.
Claimed by the Dragons – Delyse has waited for three years for her Alpha, ancient dragon Eric Drekinn to wake up from his hibernation and claim her. When she finally meets her husband, she's already in love with his Beta, Viggo. What she doesn't expect is for the two dragons to agree to share.
Taming the Alpha – Claudia is worried that no shifter will ever want to buy her, and when Karl Blackmane shows up, she wonders if he bought her just because her friend, Avelyn, insisted. All she wants is to make Karl happy, but his dark, twisted past threatens to ruin their marriage.
These four steamy novels are only intended for readers 18+.