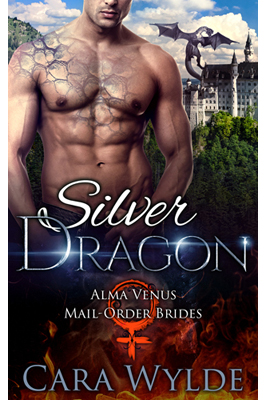 Silver Dragon (Alma Venus Mail-Order Brides Book 1)
Sexy, curvy, and very determined to get what she wants, Andrea Evans applies to the Alma Venus Agency for mail-order brides. She is sorted into House Dracones, which means she will become the bride of a dragon-shifter. Well, that suits her just fine. The dragons are the wealthiest shifters in the world, having had hundreds of years at their disposal to hoard treasures and stuff them under their ridiculously luxurious palaces. What does love have to do with wealth? Nothing. Andrea is not interested in finding love because she's only pretending to be a mail-order bride. In reality, she's a clever con artist who plans to rob the poor dragon-shifter (pun intended) who will make the mistake of falling for her.
After he lost his first wife, Calder Grimmr vowed he would never remarry. But a dragon-shifter's life can get lonely. The gift of living for thousands of years becomes a curse when you have to watch your bride and the mother of your children age and die. However, things have changed. Now, the antidote for shifter venom has been discovered, and human brides can be turned into hybrids, which gives them the long lifespan of their shifter mates. Encouraged by his clan, Calder decides to give himself a second chance and find a mail-order bride.
When Andrea finds out Calder Grimmr is a member of the Council of the Six Factions, she almost gives up her plan. Yes, he's the wealthiest, most influential dragon-shifter there is, but can she handle him?
When Calder realizes Andrea might not be who she pretends to be, it's already too late. His inner beast has recognized her as his mate.
Silver Dragon is a full, standalone novella, with a happily-ever-after, and NO cliffhangers. Intended for readers 18+