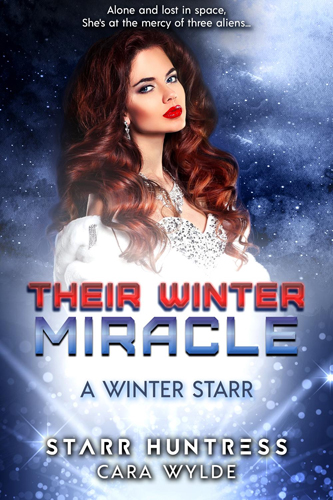 Their Winter Miracle (Reverse Harem Sci-Fi)
After a string of bad luck and rather poor choices, curvy Pippa Steele lands on an alien planet, in an unknown galaxy, where winter seems to reign supreme. When three handsome aliens save her from freezing to death, she hopes it won't be that hard to convince them to give her a ride back to Earth. But first, she has to make them understand that no, she's not an escaped slave, and they should definitely not return her to the slave trader who'd tricked her into boarding his ship.
Kayvor, Trevkon, and Ashtar form a triad, but they're too busy to concern themselves with taking a mate. The only one who suggests they keep Pippa as a wife is Ash, but he's always been the reckless one. As a diplomat, Kay knows the best course of action is to take the Terran woman back to her master. Trev, on the other hand, insists that she's the key to ending the eternal winter on their planet. Whatever they decide to do with her, one thing's for sure: the curvy Terran is nothing but trouble.