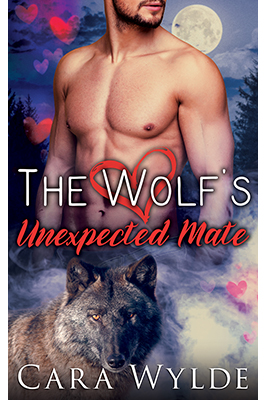 The Wolf's Unexpected Mate
It's close to Valentine's Day, and curvy, adventurous Ashley Woods has no intention of staying at home, depressed. In fact, she leaves her small town in the US, and goes on vacation to Dunkelstadt, Germany, a town in the Black Forest Mountains. When she learns about the medieval castle at the top of Mount Halbmond, she decides to go hiking by herself in hopes of getting a glimpse of it. She knows a clan of werewolves lives up there, but she's never been afraid of shifters. Either way, she soon finds out the wolf-shifters are not the real threat. When she runs into a group of three men who wouldn't leave her alone, Ashley finds herself in a situation that might end up badly for her.
Kevin, the Beta of Clan Blackmane, is out for a run when he catches Ashley's scent. A single glance at the scene unfolding before him tells him she is in danger. He shifts back to his human form, saves her, then gets completely lost in her dark blue eyes. The curvy beauty is his mate.
Ashley feels oddly drawn to the man who saved her. When he asks her out on a date, she says "yes", although she has no idea what she's getting herself into. Becoming the bride of a shifter has never been on her bucket list.
The Wolf's Unexpected Mate is a sizzling hot standalone novella with a happily-ever-after. Intended for readers 18+.
Approximate word count: 18,000 words.