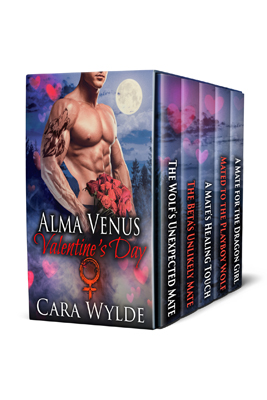 Alma Venus Valentine's Day: Complete Collection (5 Shifter Novellas)
This collection of short stories will give you a glimpse in the lives of your favorite side characters that you met in the Alma Venus Shifter-Brides series. Have you ever wondered whether there was truly something between Jocelyn Blackmane and her Beta, Ryan? What about Kevin, Max Blackmane's Beta? Did he ever find his own true mate?
The Alma Venus Valentine's Day collection will answer all your burning questions! Here's what you'll find inside:
The Wolf's Unexpected Mate – Kevin is the Beta of the Crescents pack. He never considered taking a mate, until he met Ashley Woods, a sassy, curvaceous beauty who stole his heart. But Ashley is not particularly interested in wolf-shifters. Her life is perfect, and she doesn't need the complications that come with becoming a shifter bride.
The Beta's Unlikely Mate – Jocelyn Blackmane is one of the few female Alphas in the world. Even though she is tough and independent, her status doesn't make her life easy. As all female shifters, she is unable to bear children, so it's difficult for her to find a mate. When her Beta, Ryan, shows he is interested in her, Jocelyn doesn't know what to do. A relationship between an Alpha and a Beta would only complicate things.
A Mate's Healing Touch – It's been ten years since Caleb's girlfriend passed away, but he's still heartbroken. His newfound feelings for his best friend, Rosanna, don't make things easier. However, Rosanna is determined to show him he doesn't have to feel guilty for moving on.
Mated to the Playboy Wolf – Matt is the Beta of the Dark Wolves pack. When Valentine's Day catches him without a girlfriend, he does something reckless: he gets a mail-order bride. Shy, curvy Tessa Forbes is everything he ever wanted in a mate, but is he ready to commit to a long-term relationship?
A Mate for the Dragon Girl – Sexy dragon-shifter Astrid has never thought she would find a mate in her business partner, James Harington. She belongs to the most ancient and noble shifter species on the planet, and he's only a human. To say they are an unlikely match would be an understatement.
All these stories are intended for readers 18+.