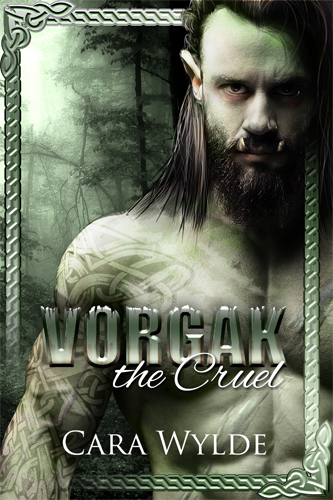 Vorgak the Cruel (Orc Mates)
When the orcs invaded the human dimension, no one could stop them. War raged for years, and now the monstrous beasts have agreed to peace on two conditions: one, the human scientists must rebuild the machine that brought them into this world; and two, they must be provided with fertile brides to bear them orc babies.
Candace West needs to escape. For two years, she's suffered at the hands of her abusive husband, and she can't take it anymore. When he refuses to give her the divorce and threatens her life, she runs to the only place where she knows she'll be protected – the nearest institute for orc brides. Once she offers herself as tribute, she is safe, and a hired attorney takes care of the divorce. Now, all she has to do is keep her word, learn about the orcs' culture, and follow the one who chooses her as his mate.
Vorgak the Cruel has been trying to find the right mate for months. When he first sees Candace, he's not convinced, but the human female pursues him. She seems to be willing and insistent, so for better or for worse, he takes her with him. He knows she is broken, and in spite of his name, he doesn't want to hurt her. But if he isn't careful, someone else will hurt Candace. She is his mate now, so it's his duty to protect her.