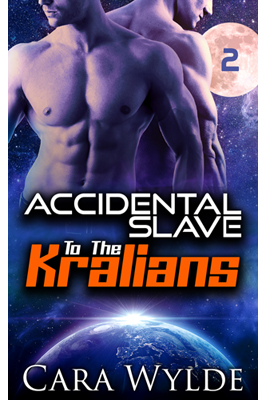 Accidental Slave to the Kralians: 2
Undercover Agent Avery Tonkin has some issues she needs to clear ASAP. One: does sleeping with the aliens she was sent after make her a bad agent? Two: do Kryan and Aedar really want to save Earth from the other four alien races? And three: is she going to die because no one bothered to tell her the invisibility serum had side effects?
She simply has too much on her plate, and not enough sleep, or coffee to help her deal with it. When she finds out her co-star, Sharon Kander, never got home from the party they both went to the night before, Avery decides her problems will have to wait. She was with Kryan and Aedar all night, so she knows they're not responsible. So, who is the alien that kidnapped Sharon, and is it really a good idea for Avery to go on this rescue mission alone? Of course not. None of her latest choices have made much sense, though…
Accidental Slave to the Kralians is a 6-book serial. This is part two, it's short, it ends in a cliffhanger, and it has a steamy ménage scene that might just set your Kindle on fire. Read at your own risk! Intended for readers 18+.