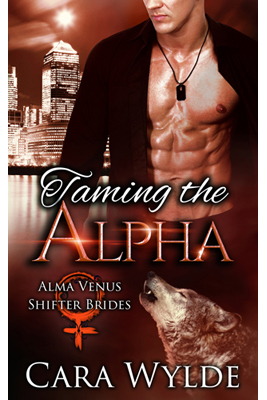 Taming the Alpha (Alma Venus Shifter-Brides Book 4)
A Dark Wolf-Shifter Romance
Shy, sexy Claudia is one of the last shifter-brides left at the Alma Venus Boarding School who have yet to be bought and claimed by a shape-shifter. Raised and educated to become the wife of a bear-shifter, she is painfully aware that the latest political changes are affecting the peace treaty between humans and shifters, and the way in which shifters choose their brides. She's afraid no Alpha will ever want her, and if she isn't married by the time she turns 25, she doesn't know what she'll do with her life.
Karl Blackmane has never wanted a mate. After what happened during the War of the Six Factions, he isn't ready to love and protect a human. He might never be. But his sister-in-law, Avelyn, insists he should claim her best friend, Claudia, because she is perfect for him. As a favor to Avelyn, Karl makes Claudia his bride. What he doesn't expect is to fall madly in love with her. But she is so innocent and fragile, and he has done so many terrible things… He can't let her in, can't let her see who he really is.
Karl keeps pushing Claudia away, Claudia only wants to heal her Alpha's wounds… Will he find the courage to tell her the truth? Will she be strong enough to forgive him?
Author's Note: Taming the Alpha is a full, standalone novel with no cliffhangers. However, it is a sequel to Sold to the Alpha, The Hidden Alpha, and Claimed by the Dragons. Reading these three books first will help you understand the characters and their backgrounds better.